China-U.S. Joint Research Center for Ecosystem and Environmental Change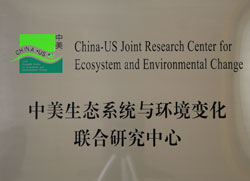 Through an initiative launched in July of 2006, scientists from the University of Tennessee (UT) and Oak Ridge National Laboratory (ORNL) have joined researchers from the Chinese Academy of Sciences (CAS) to establish the China-US Joint Research Center for Ecosystem and Environmental Change.
The JRCEEC, which occupies research facilities at UT/ORNL and CAS, addresses the combined effects of climate change and human activities on regional and global ecosystems and explores technologies for restoration of degraded environments.
News & Publications
Dr. Melanie Eldridge and Mr. Jun Wang (Ph.D candidate) from the University of Tennessee conducted a summer workshop May 20-June 10, 2013 on bioreporters and their applications for the detection of toxicity and endocrine disrupting chemicals in the environment. Read the workshop report here.
This summer, UT undergraduates and Haslam Scholars Kenna Rewcastle and Imani Chatman spent six weeks in Shenyang, China completing a soil science research project ... [more]
JRCEEC's Collaborative Research Group on Biogeochemistry held their first workshop in China this summer—Biogeochemistry of Carbon and Nitrogen, Shenyang Agricultural University, China, June 27-28, 2013
In the Summer of 2013, several of JRCEEC's US scientists visited China. The Chinese Academy of Sciences' (CAS) Institute for Soil Science hosted a forum, Frontiers in Environmental Research, for the US visitors (see the agenda). Nanjing University asked them to participate in workshop on Advances in Environmental Microbiology and Biotechnology (a copy of the agenda is here) and they took part in a conference on Systems Biology for Environmental Sustainability in Shenyang (see the conference program). In addition, CAS held a special forum in Beijing with an impressive agenda. It was a very productive visit! Oak Ridge National Laboratory's Biosciences and Environmental Sciences Division mentioned the summer visits by ORNL scientists to China in their June newsletter (see pages 5, 7 and 9).
Bin Zhang, Hongbo He, Xueli Ding, Xudong Zhang, Xiaoping Zhang, Xueming Yang, and Timothy R. Filley. 2012. Soil microbial community dynamics over a maize (Zea mays L.) growing season under conventional- and no-tillage practices in a rainfed agroecosystem. Soil & Tillage Research 124: 153–160.
Phil Jardine, Ming-An Shao, and Randall Gentry, Eds. 2013. Impacts of Land Use and Climate Change on Hydrological Processes in China, Journal of Hydrologic Engineering Special Issue 18(4). This special issue is the outcome of a series of China-US collaborative research projects in hydrology and land use within the framework of the China-US Joint Research Center for Ecosystem and Environmental Change.
Yan-Fen Yang, Quan-Jiu Wang, and Jie Zhuang. 2013. Estimating hydraulic parameters of stony soils on the basis of one-dimensional water absorption properties. Acta Agriculturae Scandinavica Section B - Soil and Plant Science (doi:10.1080/09064710.2012.762424)
Tai-Long Guo, Quan-Jiu Wang, Wen-Juan Bai, and Jie Zhuang. 2013. Effect of land use on scouring flow hydraulics and transport of soil solute in erosion. Journal of Hydrologic Engineering 18(4): 465-473 (doi:10.1061/(ASCE)HE.1943-5584.0000611)
March 2013—Terry Hazen (UT/ORNL) has published an Opinion Paper, The SuperChip for microbial community structure, and function from all environments.
January 2013—Read Neal Stewart's excellent book, Research Ethics for Scientists: A Companion for Students. It is available online.
September 2012—The 2012 China-US Annual Symposium on "Land Use, Ecosystem Services, and Sustainable Development" was held in Shenyang, China, on September 17-19, 2012. More than 200 scientists, students, US consulate officers, and industry and government leaders attended the conference. Eleven keynote speeches and 44 oral presentations were made through four concurrent workshops on biomass and bioenergy, ecosystem management, environmental pollution and remediation, and eco-city and clean development, respectively. More than ten UT/ORNL faculty members made presentations and participated in the pre- and post-conference field trips.
2013 Annual Workshop
The 2013 Annual Workshop was held at the Park Vista Hotel in Gatlinburg, Tennessee, USA, on November 18-19, 2013.
USCEES
In 2011 US-China EcoPartnership for Environmental Sustainability (USCEES) was established by the U.S. State Department with the primary focus of addressing environmental challenges that are common to both the United States and China.
New EcoPartnership
The U.S. State Department selected the University of Tennessee, Oak Ridge National Laboratory, and Purdue University as participants in one of six new US-China EcoPartnerships. The partnerships will spur collaboration among US and Chinese researchers and focus on sustainability issues in the two nations, including the environmental challenges posed by alternative energy development and climate change. Read more about this exciting new opportunity.